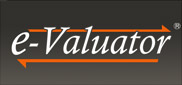 Performance EvaluationSystem
e-Valuator is your solution to an extremely affordable, technologically advanced online employee performance evaluation software system. Align and track employee goals, measure employee performance, schedule training and development events, keep employee journals, review real time reports and more!
Unlike other applications available on the market today, our systems have no expensive software to purchase and no hosting, maintenance or upgrade charges.... it does not get any easier. Just one simple license fee charged on an annual basis provides it all:
Anytime, anywhere secure online access safeguarded by advanced security features that include multi-layer password protection, server firewalls, and 256-bit SSL (Secure Sockets Layer) encryption technology.
Complete automation of your performance evaluation processes.
Administrative access that places all customization controls in the hands of the user.
Unlimited data entry for employee information, position titles, and performance evaluation criteria.
Unlimited password distribution to an unlimited number of reviewer accounts.
Unrestricted access to our extensive library of fully customizable pre-defined performance evaluation templates.
Multiple review elements (Objective and/or Subjective) with automated scoring systems, weighting capabilities, and reviewer comment areas.
Built in print and export features into both Word and Excel.
Detailed performance appraisal archive for easy administration.
Automatic email notifications.
Supports several performance evaluation platforms including self evaluations and 360 evaluations.
Unlimited levels of approval.
Suitable for small, medium, and large organizations.
Includes hosting, maintenance, system upgrades and 1(800) technical support
And when combined with Queue - Compensation Management System, e-Valuator can bring the work and compensation of individual employees into greater alignment with your organizational goals.
To receive a NO COST, NO OBLIGATION live demonstration of this outstanding Performance Evaluation Tool REQUEST AN ONLINE DEMO today.